3 Hospitality Tech Trends You Don't Want To Miss In 2016
Identifying the trends of our own industry in the year to come is very important. Technological trends that will significantly influence the industry are shaping the industry and forcing companies either to adopt the changes or be left behind. The hospitality industry is no exception, the top 3 technology trends you need to watch out for in 2016 are:
1. Social Media is your main battle field
With social media, every service and product you've been supplying at hotels now live in a glass house. Research held in early 2015 indicated that over 50 percent of consumers world-wide purchased a product based on an online recommendation while 65 percent of them frequently visit a website. Therefore, Social Media like Twitter, Facebook, LinkedIn, Pinterest, Videos and Blogs are now the main battle where hoteliers strategically leverage social media if they wish to grow their room occupancy.
2. Mobility - your key weapon to win
By 'mobility', we mean 'mobile devices' which are considered as part organiser, part concierge, and in some ways, part companion of the traveller. With more than 2 billion smartphones in the world it's not that surprising that 76% travellers agree that their smartphones are very important, even critical. 35% of worldwide travellers admit to use smartphones more when they travel than they do at home. As technology changes the way people do business, 78% of business travellers use their smartphone in a travel planning capacity.
Therefore, hotels with mobile apps like check-in, e-menu and others would be a plus when travellers make decisions where to stay. There are more hidden benefits when you virtualise your offers and services and support customer's multiple mobile devices and make customers feel the convenience of working with your brand.
3. Property management system? Why not a Hotel ERP?
Before you know it, your once great property management system is now limping because of guest's rapidly growing, demanding and sophisticated needs. The PMS can no more handle the rate of data and change between social media marketing, business intelligence, revenue management, distribution channels, online reputation management and more. That's when you must look for a new solution: Hotel ERP. A good Hotel ERP system should address these needs and leverage all that data you have been accumulating to personalise your guest interaction.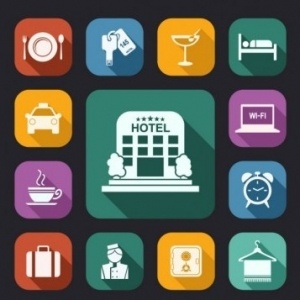 In conclusion, there's a flood of technology, and hotels wishing to ride the wave are the ones who can make the most of technology. The above 3 trends can be differentiators and are likely to bring you success. Last thing to say is that although we dwelt on the technology aspect, hospitality continues to remain a people centric industry. After all, hotel managers have to keep it all together because major components of the guest experience are still delivered by your people.
Read more